So, what can I expect once I have purchased my RV at Craig Smith RV Center?
Below you will find the steps your new unit will go through before you take it off the lot.  We want your safety and knowledge of your unit to be unquestionable.  
COMPREHENSIVE RV SYSTEMS CHECK
Your RV undergoes a rigorous multipoint inspection by our highly qualified, trained technicians. This inspection will cover over 100 points. Remember, your safety is our first concern, and depending on the RV, this process can range from five to twelve hours.
LP system and all appliances that are hooked up
Electrical system (12 volt and 110 volt), along with GFI breakers
Plumbing system, holding tanks, hot water heater and all water lines
Appliances (refrigerator, cooktop, oven, furnace, air conditioners and optional appliances)
Inspect interior and exterior seals
Audio/video equipment (TVs, DVD players, antennas and satellite hook-ups, stereo systems, and the interior and exterior speakers)
Jacks and slide-outs
Once all the systems have passed our examination, your RV will be cleaned and sanitized .  We want to again make sure safety is first.
WALK-THROUGH DAY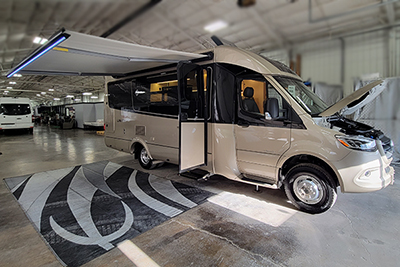 On your walk-through day, our RV specialist will first ensure your unit has been cleaned and sanitized.  Your unit will be in our indoor showroom.  It will have all slides out and all lights turned on.  You will NEVER be outside for ANY portion of the walk-through.  We will then begin a step-by-step demonstration on every aspect of our unit with our specialist.  Small tip, please feel free to record your walk-through so you can reference it later.

We will teach you how all of the components operate, inside and out, and we encourage you to again ask questions. No question is ever silly.  You may have years of RVing experience, or this could be your first unit.  We understand that and will take the necessary time.

Again, your walk-through may take just an hour if you have been RVing or could take hours because this is your first unit.  That is what walk-through day is all about.  Ask as many questions as you need to know you will enjoy your camping season.