The Spree travel trailer from KZ is an amazing camper for both small families and large (and growing) ones. With over a dozen floor plans in various shapes and sizes, you won't have to look far to find the model that meets your family's needs. Just to give you an idea of the kinds of features that this luxury travel trailer has to offer, we have put together our top 3 favorite features for the family that you can expect in the KZ Spree travel trailer floorplans.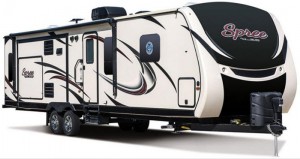 So Many Slides
Imagine driving to your favorite location and popping out your trailer so that, when you go inside, it's even larger. That's exactly what you get with one of these Spree floorplans. Several of these awesome models come stacked with up to three slides, meaning that, while compact and easy to manage on the road, it still provides you with a luxury experience when you arrive. This gives your family more than enough room to really stretch out.
Featured in the 339RK floorplan, the S303RL floorplan, and the S323RE floorplan.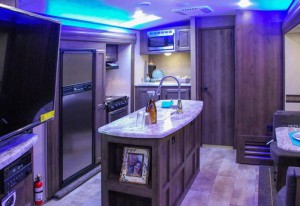 Gourmet Kitchen
When you have a family to feed, hotdogs over the fire are good for a while, but eventually, they will be hankering for something a little more substantial. That's where the KZ Spree can step in. With a gourmet kitchen that features an island, you have enough space to cook just about any of your family's favorite meals that they can get at home.
Featured in the S323RK floorplan, the S333BHK floorplan, and the S333RIK floorplan.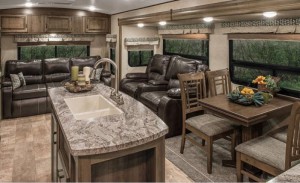 Kids Love Bunking It
Have a lot of kids? The bunkhouse option that is found in some of these awesome Spree floorplans is the ideal situation for you, then. Able to sleep several people in a compact space, you will not have to sacrifice any precious living space to clunky beds.
Featured in the S312BHK floorplan.
There is a lot to get excited about when it comes to the Spree from KZ, but this much above all else is certain; if you are looking for an awesome RV with the features necessary to make your next family trip a real adventure to remember, this is the trailer for you!