An all-new RV from the Keystone Bullet line, the Colt travel trailer for sale is a compact delight that is filled with the features and amenities that you've come to expect from this high-end manufacturer. Lightweight, durable, and versatile, the Colt travel trailer for sale here at Craig Smith RV is more than just a travel trailer; it's a new way of life!
If you are looking for a new RV that can fulfill both your wanderlust and your desire for comfort, here are three reasons why the Keystone Bullet Colt travel trailer might just be the RV of your dreams.
Space Saver
Designed for comfort, but also for versatility, the Keystone Colt travel trailer is designed with you in mind. This means that, not only does it come stacked with comfortable additions, it also has more than enough space to service everything that you want to do when on the road. With extra storage in all the right places, the Colt will make it so you have everything that you need when you need it.
Queen-sized Comfort
While some compact RVs have compact beds to match, the Colt goes above and beyond by hosting a full-sized queen bed so that you can really stretch out when you are on the road. Whether you are on the road with a loved one or riding solo, you will have plenty of space to relax after a long day of driving or adventuring.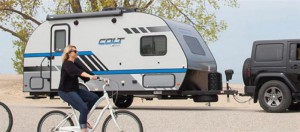 Master of the Essentials
Cooking, eating, sleeping, relaxing, bathing; all of this is so easy to do no matter where you are when you are driving the Colt. With all of the essentials packed into this excitingly optimized RV, you will never need to go anywhere when you arrive at your destination. Just put it in park and enjoy the simple pleasures of your favorite destinations.
There are a lot of things to get excited about when it comes to the Colt. The most unique and driving factors that will make you love it, however, is how it keeps things simple in a manner that is both elegant and comfortable. With so many awesome things to experience in these  Colt floorplans, you'll wonder why you haven't been doing this forever.