Craig Smith RV is proud to announce the innovative Thor Motor Coach Axis class A motorhomes now for sale! We have absolutely fallen in love with the optimized and durable design that make the Axis truly the best of both comfort and utility. If you are in the market for a brand-new class A or want to experience what true comfort on the road really is, we would love to tell you some of our favorite features about the Axis!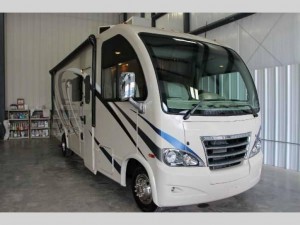 Compact and Easy
Driving many class A motorhomes may seem daunting to some new RVers who have never driven such a large vehicle. The Thor Motor Coach Axis Motorhome is the perfect RV for those who are still on the fence because it comes in a nice compact size, but still offers all of the big amenities inside that you could want. This means that, even if you are a novice behind the wheel of one of these beauties, you will surely feel right at home.
A True Bed-Room
When you are ready to lay your head down in the Axis, you will love settling down in the massive bed that you will have! With overhead storage, you will not have to sacrifice one square inch of space on the floor, giving your room more space for you to really stretch out.
Lovely Dining Room
Sitting down for a meal has never been so elegant as it is in the Thor Motor Coach Axis Motorhome. With beautiful furniture decor and a variety of sitting arrangements to enjoy, depending on your floorplan, you will feel right at home no matter where you end up.
All of this and more comes stocked in these outstanding class A motorhome floorplans for sale at Craig Smith Auto. But, remember, your prefered features are all up to you, so if you want a delightful dual-bed bedroom, check out the 24.1; or, if you are looking for more space in the living room, check out the 25.3. There are so many features to love, that vacation will truly be what you make it! Contact us for more information or to ask any questions about the Axis today!