A true camper van, the Leisure Travel Unity class B motorhome combines all of the practicality of a van with the accessibility and comfort of a luxury RV. We at Craig Smith RV love the Leisure Travel Unity class B for sale, and we think that you will too with its spacious and stylish interior sleeping space that easily converts into a beautiful living area, and it's fully-stocked kitchen that makes it easy to cook just about anything on the road.
There is a lot that we love about the Unity class B, but we have hand-picked some of our favorite features for you to check out and find out what exactly makes this camper van a first-in-class model that RVers are scrambling to take advantage of.
Stylish Interiors
These beauties are compact, yes; but they are also incredibly pleasing to look at. With fine white upholstery on the surpassingly comfortable chairs and and clean-cut kitchen that is easy to keep tidy on the road, the Unity combines this stylish feel with the functionality and usability that you just won't find in many class Bs.
Versatile Floorplans
Though all of the Unity floorplans feature the same great quality, each one of them is optimized to make sure that you can make the most out of your next RV trip. From floorplans with dual twin beds to floorplans with spacious queen beds, there is a Unity floorplan to suit exactly what you have been searching for.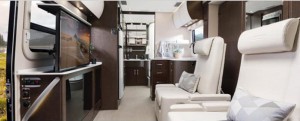 Dedicated Bathroom
Class B motorhomes conserve space in many ways. One way that some class Bs do this is by making the bathroom area convert into a different area when not in use. However, the Unity class B motorhomes actually have a dedicated bathroom so that you have a constant place to enjoy the peace and privacy of a traditional bathroom.
There are so many more features to get excited about when it comes to a Unity, but you will have to see them to believe them. Check out more about our Unity floorplans for sale by contact us to get answers to all of your questions. We can't wait to show you more of what the Unity has to offer!